ASTM A193 B6 is a high-temperature ferritic stainless steel (UNS 41000, 410 stainless steel) bolting specification for extreme applications in heavy industry. ASTM A194 Grade 6 nuts (UNS 41000, 410 stainless steel) are the corresponding nut. Grade B6 studs and Grade B6 heavy hex bolts are 12-13 % chromium. Another common nut used is ASTM A194 Grade 6F (UNS S41600, 416 stainless steel). The slightly different grade of stainless can help with galling in certain applications.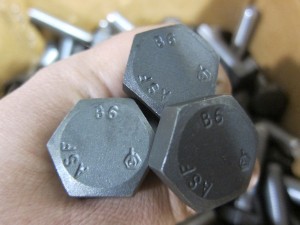 These specs are typically found in flanged piping applications with corrosive elements present under high temperatures.
These studs are typically cut-to-order per application.
Like other ASTM A193 fasteners, typically ASTM A193 Grade B6 and ASTM A194 Grade 6 nuts are supplied in UN8 (8 pitch) rather than UNC.
Also available are B6 socket head cap screws that are made using material meeting ASTM A193. These are much less common than the B6 studs and B6 bolts. Technical Threads can supply sockets to standard dimensions or to custom dimensions per your description or drawing. B6 socket heads are typically found on high temp equipment that also requires corrosion resistance, such as pumps, meters, and instruments used in petrochem and refineries.
Please contact us today for your B6 fastener inquiry– we offer quick shipments per your job requirements!